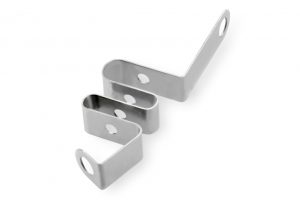 Under the umbrella term Leaf springs become different Types of feathers summarized, which can be used in countless applications. Their forms range from simple Coil springs and Flat springs up to complicated ones Form springs and Parabolic springs that adapt precisely to the geometry of the surrounding components. Basically, a leaf spring can be defined as a mechanical spring that consists of Spring band steel or Spring steel sheet and the effect of which arises from the opposing spring force during elastic deformation. By absorbing or transmitting forces under relatively large deformation, leaf springs can store mechanical work as potential energy and release it again at a freely selectable point in time. Thanks to this property, leaf springs can be used for energy, force and travel compensation.
Leaf springs are often used in the form of flat springs, shaped springs or spiral springs to provide forces for pushing, pulling, holding or clamping. But they can also be used as Contact springs Use for electrical bridging, for example with a flashlight. The term "leaf spring" is often used for the axle suspension of trucks, vintage cars and horse-drawn carriages. These special leaf springs are Elliptical springs , Parabolic springs and Trapezoidal springs . As different as the individual leaf springs are – they all have one thing in common: They are usually designed for the existing installation situation and the desired function tailor-made . That is why there is only a small standard program in the range of leaf springs.
The most important leaf spring types at a glance:
Flat springs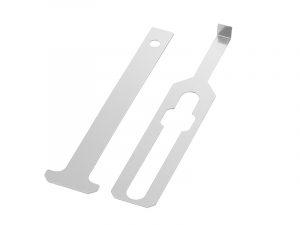 Flat springs, also straight Flat springs called, usually consist of Spring band steel and be with one Stamping or stamping and bending machines manufactured. The springs can also be made from Spring steel sheet Lasered or etched if the customer only has small lot sizes or components with filigree to shape needed. Flat springs are used wherever components need to be held, fixed or connected – including in contact systems for electrical switching devices. As Contact springs flat springs can be installed pretensioned. This shortens the switching paths. Their characteristic is linear. Die wichtigsten Formeln zur Berechnung einer geraden Flachfeder finden Sie hier.
Shaped springs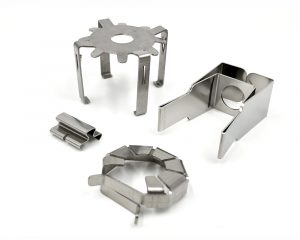 Form springs can be in any shape you want and for any function you want getting produced. They are diverse construction elements and the means of choice when it comes to absorbing and transmitting forces with relatively large deformations. The applications for shaped springs are almost inexhaustible. They range from simple Flat springs to complex ones that are precisely adapted to the geometry of the surrounding components Form springs .
Shaped springs are often used in mechanical engineering, vehicle construction as well as in precision engineering and electrical engineering. They are often used as storage elements for force and travel compensation, as measuring elements in force and torque sensors, as vibration and damping elements in suspension springs, and as rest elements in contact springs and safety springs.
Contact springs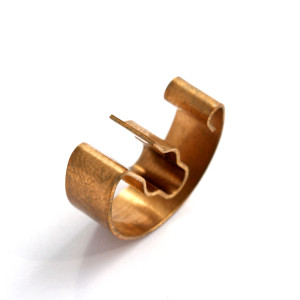 Contact springs are available in an infinite number of variants and designs. They are used where contact points have to be bridged, for example at Battery contacts . A commonly used material for contact springs is Copper beryllium (CuBe) . This is characterized by its high conductivity and strength as well as its excellent spring properties. The material is also self-cleaning and resistant to air, ozone, solvents and UV light. It can even withstand nuclear radiation. In addition is CuBe thermally and electrically conductive. The electrical conductivity can be determined by a subsequent surface treatment to be further improved.
In addition to a wide range of standard contact springs for EMC-safe housing parts Copper beryllium A large variety of springs is also available in individual special shapes and with properties according to customer specifications. Regardless of whether it is easier Flat contact or elaborately shaped Contact spring – It is important that the contact is optimally and stably applied to the existing conditions and contact points.
Coil springs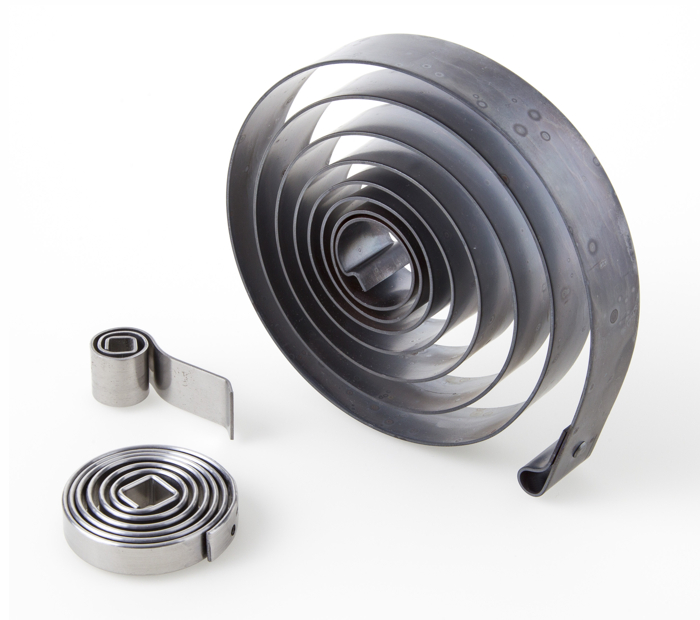 Coil springs will be off Spring band steel created and wound in a plane of the Archimedean spiral. The constant distance between the coils (a) prevents the individual coils from touching each other and ensures that the spring functions with little friction. Coil springs are used in the component in such a way that one end is connected to a shaft and the other to the housing. Due to their spiral shape, they are very suitable as compensating springs for smaller angles of rotation of up to 360 degrees. The stored force serves as a compensation or as a restoring torque. The Spring characteristic a spiral spring rises in a straight line.
Wave springs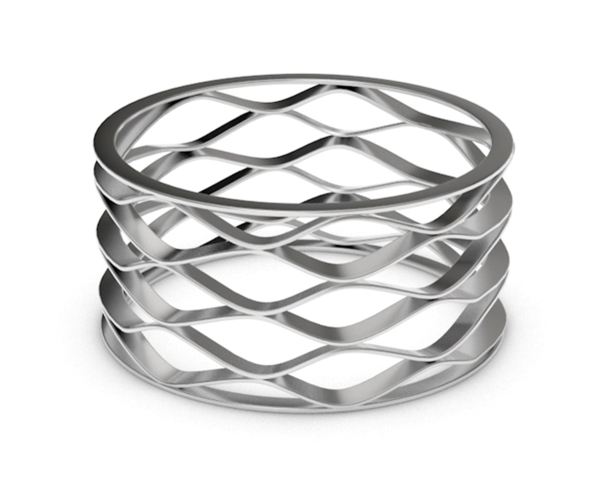 Wave springs, also called axial wave springs or wave springs, are made from coiled flat wire. The incorporated wave gives the component its spring effect. With an installation height reduced by up to 50 percent compared to conventional compression springs, they are a space-saving alternative for static to medium dynamic use. Despite their reduced overall height, wave springs can generate the same force as compression springs. The required spring constant can be determined and produced by the number of turns, the waves and the wave sizes. As a rule, the spring constant for wave springs is only implemented linearly. Not in the offer at Gutekunst Formfedern GmbH!
Advantages of wave springs:

They are very suitable for tight radial and axial installation spaces
Less weight than comparable compression springs
Same force with reduced installation space
Disadvantages of wave springs:
Higher manufacturing costs
Smaller spring travel, which can be easily increased with a series connection.
Larger hysteresis due to the structural properties
Elliptical springs
In the past, these slightly curved leaf springs were often used to suspend vehicles. In order to ensure a better ride comfort, the springs were used in pairs against each other. This arrangement in an elliptical shape gave the spring its name: Elliptical spring . The two opposite springs are usually spring assemblies, that is, individual spring leaves lying on top of one another. Due to the central load, the bending moment is greatest in the middle of the spring length. The stepped longitudinal shape of the spring pack is adapted to the triangular moment course: The length of the added leaves decreases from piece to piece.
Not in the offer at Gutekunst Formfedern GmbH!
Parabolic springs
Parabolic springs consist of individual, parabolic rolled layers. These are adjusted according to the use. The thickness of the spring changes according to a parabola. This gives it a geometrical moment of inertia that is variable over its length and thus ensures a constant stress distribution. Compared with the very similar trapezoidal spring, the parabolic spring is lighter and thinner and has increased toughness and strength.
Not in the offer at Gutekunst Formfedern GmbH!
Request individual leaf springs
At the design There are many decisions to be made with the different leaf spring types: from the type of spring to the spring shape, dimensions, spring fastening and the Spring steel to the manufacturing and testing options. Decision-making aids are mainly calculations for Deformation behavior and the load-bearing capacity of the springs. The basis for this are the applicable deformation and stress relationships.
Gutekunst form springs develops and manufactures individual types of leaf springs such as Form springs , Flat springs , Contact springs , Coil springs and wave springs as samples or prototypes as well as in Small quantities and large series. Simply send us under the following request button " Spring request " or via email info@gutekunst-formfedern.de the data of your desired leaf spring with details of the number of pieces and the drawing or the CAD data. We will prepare a non-binding offer for you at short notice.
For more information: