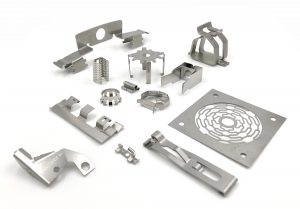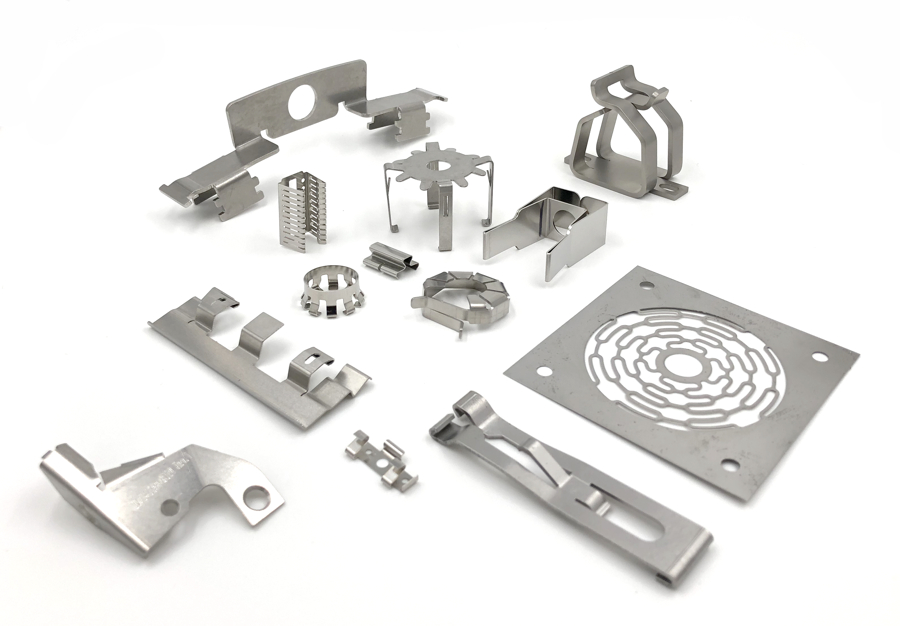 The offer of Metal springs is as extensive as his Possible applications . In order to procure the optimal metal spring for the respective application, you need a partner who is very familiar with all manufacturing processes. the Gutekunst Formfedern GmbH has stood for high quality and functionality for 30 years. The spring specialist supplies its customers with a wide range of products and services, ranging from laser cutting, punching and forming to assembly in the subassemblies provided. The product range includes both Form springs , Flat springs and Leaf springs as well as Spring clips and Spring clips as well as the production of Stamping parts , Stamped and bent parts and Laser parts .
Gutekunst Formfedern produces replicas ISO 9001: 2008, 14001, 45001 and OHSAS 18001 . The focus is on both the employees and the sustainable use of environmental resources. Thanks to its excellent innovation management, Gutekunst Formfedern has been awarded the "Top 100 Innovator" award excellent.
Features shaped springs, flat springs, leaf springs and spring clips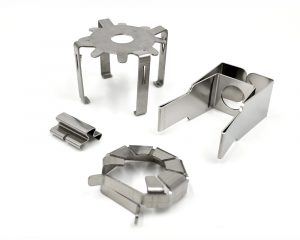 Form springs, flat springs, leaf springs and Spring clips belong to the first spring technology applications. They are mainly used in machine and vehicle construction as well as in precision engineering, Electric -, Food – and Medical technology for use. Flat spring shapes are particularly diverse: The scope ranges from simple ones Flat springs up to complex Form springs and shaped spring systems that adapt exactly to the geometry of the surrounding components. Designers can use them both as Storage, measuring, vibration, damping, resting or storage elements use.
Demanding manufacturing
The manufacture of individual shaped, flat, leaf springs and spring clips is complex: Because of their special and often complicated shapes, they cannot be made according to a simple scheme calculate and design . For the best possible result, Gutekunst relies on many years of experience, technical know-how and current calculation methods. In addition, there is detailed documentation of every production. In this way, Gutekunst can refer to the information obtained at any time for subsequent interpretations.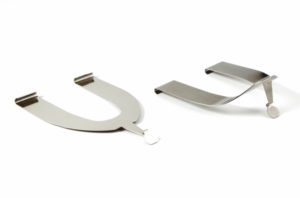 Depending on the requirements, shape or number of pieces, shaped springs and flat springs, spring clips, spring clips and leaf springs are all combined in one Punch bending or Laser cutting process with the following Reshaping manufactured by bending, embossing, edging and deep drawing. There are hardly any limits to the design.
Wide product range
Gutekunst has an extensive Choice of spring materials . In addition to normal spring steels, this also includes stainless steels, non-ferrous metals and non-ferrous metals in strip or plate form. The production spectrum includes material thicknesses between 0.1 and 3.0 millimeters, the bandwidth is 1.0 to 150 millimeters, and the panel sizes 1,500 x 2,500 millimeters.
Efficient further processing
If necessary, Gutekunst also treats them surfaces of the parts – for example through processes such as vibratory grinding, barrel finishing, phosphating, burnishing, galvanizing or painting. The range of services offered by Gutekunst also includes the direct assembly of the parts in the subassemblies provided. The latter simplifies the customer's processes considerably.
Anfrage Formfedern & Flachfedern
What are the characteristics of stamped and bent parts?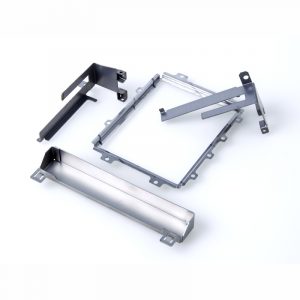 Stamped and bent parts are among the components that are most frequently used across industries – this includes simple metal molded parts, Spring clips , Spring clips , Pipe clamps, Retaining springs that fix the brake pads in cars and trucks, as well as electrically conductive ones Spring contacts or even medically pure components with a flawless surface, the specially hardened and are independent of temperature. Depending on the choice of machine, customers receive almost all qualities of metal materials: punched, lasered, bent, folded, welded, riveted, screwed or processed into complex assemblies – regardless of whether Flat steel, sheet metal or split strip. Materials such as steels, stainless steels, aluminum or non-ferrous metals such as copper, bronze, brass and beryllium copper (CuBe) as well as various special alloys are often too Stamped, bent and stamped parts processed. Gutekunst Formfedern supplies these in small quantities and large series.
Precise stamping and bending process
This is especially useful for large quantities Stamping and bending process on. The manufacturing method is particularly cost-efficient, precise and energy-saving. Automatic punching and bending machines and freely programmable bending punches as well as punching tools made of powder steel or hard metal made from strip material are used different material steels is produced. Even after millions of parts, the punching tools are still wear-resistant and highly precise. In addition, Gutekunst form springs are increasingly producing stamped and bent parts Plate material with very complex and special bending geometries on several levels. Another alternative are exact parts, for example electrically conductive, resilient, medically pure and particularly resistant or have a special look. There are no limits to the shape of the stamped and bent parts.
Stamped and bent parts can also be through a subsequent surface treatment such as slide grinding, galvanizing, silvering, gold plating, burnishing, hydrogen brittle or etching, with additional properties. The production spectrum at Gutekunst Formfedern includes material thicknesses from 0.05 to 3.0 millimeters, belt widths from 1.0 to 150 millimeters, plate sizes up to 1,500 x 2,500 millimeters and a pressing force of 180 to 800 kilonewtons.
Anfrage Stanzbiegeteile & Stanzteile
Especially with sample parts or also small and medium-sized production quantities of stamped and bent parts The effort involved in manufacturing stamping and progressive tools does not pay off. In this case the parts are lasered and processed further with the help of automatic bending machines.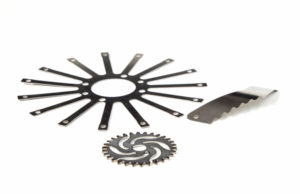 Laser and sheet metal parts or also Laser cuts Gutekunst produces shaped springs on powerful Trumpf laser cutting systems. And that quickly, precisely and with complete freedom from contours – within 48 hours of ordering if you wish. Regardless of whether it is sample parts, small quantities or series parts: Gutekunst uses sketches, drawings, CAD data or samples to produce any desired number of laser parts according to customer specifications.
Gutekunst Formfedern supplies individual Laser parts in express production from the following materials : Laser parts made of normal steel according to EN 10270-1 in material thicknesses from 0.5 to 3.0 millimeters, Laser parts made of stainless steel according to EN 10270-3-1.4310 in material thicknesses from 0.1 to 3.0 millimeters as well as laser parts made of aluminum in material thicknesses from 0.5 to 3.0 millimeters. All materials are in stock up to a panel size of 300 x 2,500 and 1,250 x 2,500 millimeters.
This is how the express order works

For the express delivery of laser parts, an email with CAD data, a drawing or sketch as well as the desired number of items, installation situation and function is sufficient laserteile@gutekunst-formfedern.de . Gutekunst will process the request immediately. The individual offer is made within 24 hours. The laser parts are shipped within 48 hours after the order has been placed – free of charge throughout Germany. On request, Gutekunst Formfedern can also carry out final surface treatments, barrel finishing, phosphating, burnishing, galvanizing, hardening or painting. The express laser part offer only applies to components without bends.
If you are interested, simply send us using the respective request form or by email info@gutekunst-formfedern.de the data of the desired component with details of the number of pieces and the drawing or the CAD data. We will prepare a non-binding offer for you at short notice. You can also reach our technicians by phone (+49) 07445 85160.
For more information:
Lasering, punching, forming and assembling