Gutekunst Formfedern stands for an extraordinary variety of springs, a wealth of ideas and the highest level of precision in spring technology. We have been developing and manufacturing every desired one since 1991 Shaped spring , Flat spring , Leaf spring as Stamped and bent parts and Laser parts from all Flat and strip steels in small quantities and large series. Whether complex shapes, multi-use properties or simply for the right one Metal spring made of flat material – tell us your requirements and immerse yourself in the world of Gutekunst form springs .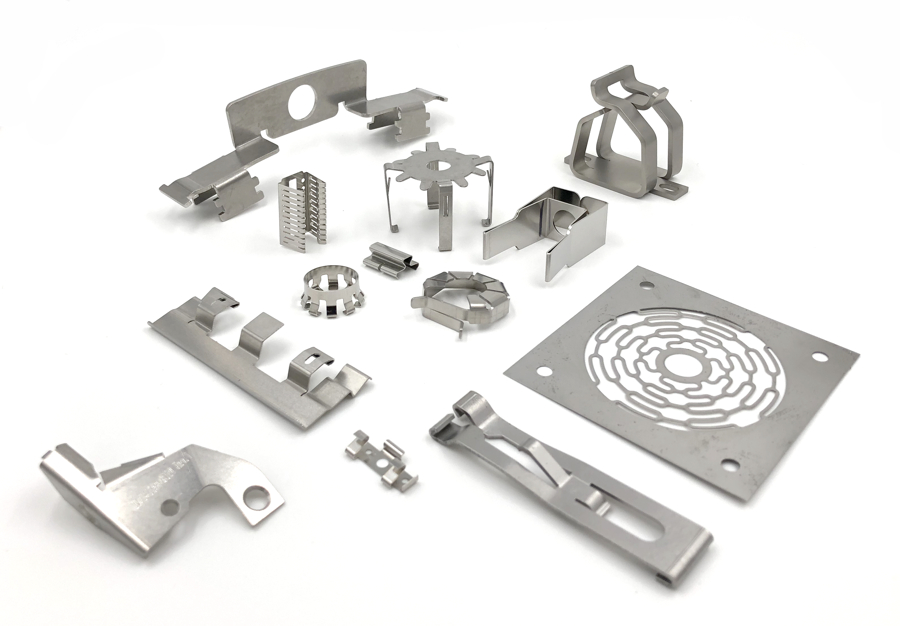 Manufacturing process
Depending on the properties, requirements and quantity manufacture we use our form springs, flat springs, leaf springs as well as stamped and bent parts and laser parts on modern Stamping and bending machines or in Laser cutting , Water jet cutting and etching processes with subsequent Forming technology through TruBend bending machines and freeform tools. We achieve a very high part precision and repeatability of up to +/- 0.05 mm. We would be happy to provide you with a complete process log on request.
Manufacturing dimensions
Material thickness: 0.1 to 3.0 mm
Bandwidths: 1.0mm – 150mm
Plate sizes: 1500 x 2500 mm
short delivery time
With our own tool shop for punching, bending and embossing tools and our extensive material warehouse, we enable the shortest possible set-up, production and delivery times for prototypes, small quantities and large series. In addition to the Spring steel grades C75, C85, C100, MK101, the stainless steel sheets 1.4310, 1.4301, 1.4571, 1.4568 and non-ferrous metals CuBe2 , CuSn6, CW612N, CW508L, we also store aluminum ALMG3, AI99, electrical sheets according to EN 10106 M530-50A, as well as various high-temperature materials such as Duratherm and Inconel in various dimensions.
Development, construction and CAD data transfer
Whether complex shapes, multi-use properties or the right metal spring, our technology and development department will support you right from the start optimal design the desired shaped spring, flat spring and leaf spring. In addition to the direct CAD data transfer in 2D and 3D format, we also completely take over the design and development based on a sample, drawing, requirement profile or the installation situation. In addition to a variety of calculation methods, we have 30 years of know-how in the manufacture of springs and molded parts from flat material.
Surface treatments
For protection, for optics, or to provide additional functions. We also offer you the right one for every desired application Surface treatment . Such as galvanizing, chrome plating, nickel plating, thick film passivation, chromating, gold plating, copper plating, silver plating, electropolishing, glass and shot peening, burnishing, phosphating, passivating, plastic coating, powder coating, nitriding, Delta-Tone 9000 and Delta-Seal, vibratory finishing (Barrel finishing), chemical deburring, induction hardening, bainite heat treatments.
Further work and assemblies
We are happy to take on further work on request, such as embossing, welding, soldering, joining, riveting, nibbling, pressing, grinding, thread cutting, assembling, screwing, packaging and direct assembly in the provided assemblies.
Special product offer
In addition to our product range all around Form springs , Flat springs , Leaf springs as Stamped and bent parts and Laser parts , take a look at our special product range Spiral and mainspring , Contact springs , Spring clips , Metal clips , Lock washers , Spring band steel and Spring washers on.
Non-binding offer from Gutekunst Formfedern
If you are interested, send us the following Request button the data of the desired technical spring, stamped and bent or laser part with details of the number of pieces and the drawing / CAD data. We will make you a non-binding offer at short notice as a sample, prototype, in small quantities and large series.
You can also contact our technicians directly at info@gutekunst-formfedern.de and phone (+49) 07445 85160.
Gutekunst Formfedern GmbH
Siemensstrasse 11
72285 Pfalzgrafenweiler
Phone +49 74 45-85 16-0
Fax +49 74 45-85 16-33
info@gutekunst-formfedern.de