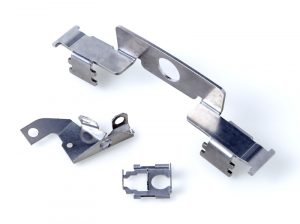 Stamped and bent parts are specially produced according to customer specifications. Whether flat steel, sheet metal or slit strip, depending on the machine selection, almost all qualities of metal materials can be punched, laser cut, bent, folded, welded, riveted, screwed and processed into complex assemblies. Steels, stainless steels, aluminium, non-ferrous metals such as copper, bronze, brass, CuBe and a wide range of special alloys are frequently processed into stamped and bent parts. Stamped and bent parts are produced in small quantities and large series. Particularly in the case of large quantities, the stamping-bending process stands out as a cost-efficient, precise and energy-saving manufacturing method.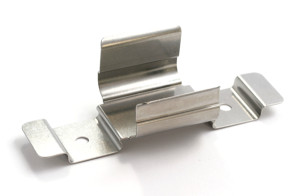 In addition to simple punched and bent parts, which are produced with automatic punching and bending machines from strip material, various material steels are produced in small quantities and large series, today it is more and more frequently stamped and bent parts made of plate material with special bending geometries on several levels, or high-precision parts with a smooth cut using the fineblanking process, which have additional properties such as being electrically conductive, springy, medically pure, particularly resistant or have a special appearance. This makes the stamped and bent part one of the most frequently used components. From the simple Spring clamp over Spring clips, pipe clips, Retaining springs for fixing brake pads in cars and trucks, electrically conductive Spring contacts, medically pure components with flawless surfaces, specially hardened and temperature-independent stamped bent parts in the aerospace industry, up to combined highly complex assemblies through downstream processing steps such as welding, riveting, screwing, gluing and soldering.
For the production of punched and bent parts in quantities of several million pieces, automatic punching and bending machines with freely programmable bending punches and punching tools made of powder steels or hard metals are mostly used. Equipped with different press forces from 180 to 800 kN and a variety of bending punches, material thicknesses from 0.05 to 3.0 mm and strip thicknesses up to 150 mm can be processed efficiently. The punching tools are made of powder steels and hard metals, which are wear-resistant and highly precise even after millions of parts have been produced. For small and medium-sized quantities, as well as complex stamped and bent parts, the basic dimensions are stamped or lasered separately and then formed perfectly with the specified bending radii and angles on semi- or fully-automatic press brakes.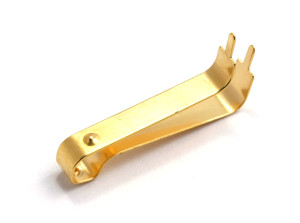 High quantities with cost-efficient, consistent and precise production – these are the characteristics of stamped and bent parts. Furthermore, there are no limits to the shape of the stamped and bent parts. If the cost of producing stamping and progressive dies is not worthwhile, the parts are laser-cut – especially for sample parts and small and medium production quantities – and further processed using automatic press brakes. It goes without saying that, in addition to the pure material properties, stamped and bent parts can be given additional properties by subsequent surface treatments such as vibratory finishing, zinc plating, silver and gold plating, Delta Tone, burnishing, hydrogen deflashing, etching, etc.
Based on a sketch, a drawing, a sample or an installation situation, the requirements for a new stamped and bent part can be determined with regard to function, property and quality requirements. For quotation and production testing of stamped and bent parts, please send a sketch/drawing with the desired quantity via our inquiry button below, …
Anfrage Stanzbiegeteile & Stanzteile
… or send a sample of the punched bent part to:
Gutekunst Formfedern GmbH
Siemensstrasse 11
D-72285 Pfalzgrafenweiler
Phone (+49) 07445 8516-30
For more information, see:
Properties stamped bent parts