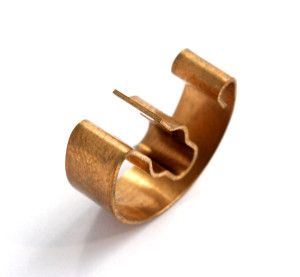 Contact springs are available in an infinite number of variants and designs. They are used where contact points have to be bridged, for example at Battery contact . In addition to a wide range of standard contact springs for EMC-safe housing parts Copper beryllium A large variety of individual special shapes and properties is also available. Gutekunst Formfedern GmbH specializes in the manufacture of these individual contact springs and manufactures them in any desired special shape and property for the respective situation. Regardless of whether it is easier Flat contact or elaborately shaped contact spring, it is important that the contact is optimally and stably applied to the existing conditions and contact points.
Contact springs in small quantities and large quantities
Larger amounts of Battery contacts , PCBs and electrical contacts are produced by Gutekunst Stamping and bending machines and freely programmable bending punches. In the case of prototypes and complex contact springs in small and medium quantities, Gutekunst uses the production means Laser cutting and forming return. The basic dimensions of the workpieces are separate laser cut and then exactly with the specified Bending radii and angles reshaped. This is done on semi or fully automatic bending machines. In this way, Gutekunst enables cost-effective, efficient and precise production even with small quantities and complex contact springs.
Contact springs in special shapes according to customer requirements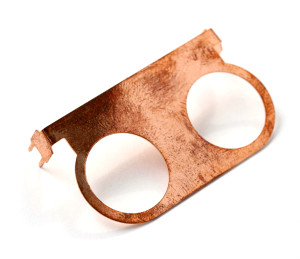 Gutekunst Formfedern GmbH not only draws on years of experience, but also on a wide range of production options. In addition to processes such as punching, lasering, etching, bending or folding, Gutekunst offers numerous other production steps – including manufacturing methods such as embossing or welding. There are practically no limits to the shape of the individual contact springs. In addition, Gutekunst has a wide range of specials conductive spring materials and Surface treatments .
Contact springs made of copper beryllium (CuBe)
A commonly used material for contact springs is Copper beryllium (CuBe) . This is characterized by its high conductivity and strength as well as its excellent spring properties. The material is also self-cleaning and resistant to air, ozone, solvents and UV light. It can even withstand nuclear radiation. In addition is CuBe thermally and electrically conductive.
Contact springs made from other spring steel sheets
In addition to CuBe, contact springs can also be made from numerous others, depending on the application and properties Spring steel sheets be made. These include:
Normal spring steel (EN 10270-1)
Stainless steel (1.4310, 1.4571 and 1.4568)
Aluminum (Al, AlMg3 and S235JR)
Non-ferrous metals such as various copper alloys bronze (CuSn), brass (CuZn)
numerous special alloys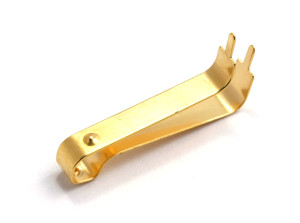 For good workmanship and contact, Gutekunst brings to the surfaces of the components, for example zinc (Zn), copper (Cu), nickel (Ni), silver (Ag) or gold (Au) – or passivates the springs. Each coating has certain properties. Gold, for example – with the exception of aqua regia – is resistant to acids and offers very good surface protection. In addition, the coating allows the workpiece to be soldered in a process-reliable manner. Galvanized surfaces are also suitable for very good contact through soldering and welding.
Individual development
Would you like to find out which contact spring is best suited for your specific application? Then contact our technical department via info@gutekunst-formfedern.de and phone (+49) 07445 85160 or send us via the Inquiry button contact springs the desired properties. The experts will be happy to find out which contact spring is right for you. To prepare an offer, please send us either CAD data, a drawing or a sketch, as well as information on the installation situation, operational environment and the desired function.
Anfrage Kontaktfedern
For more information:
Individual contact springs