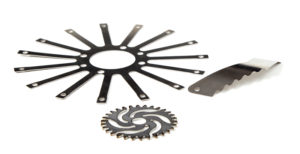 Gutekunst form springs manufactures on powerful Trumpf laser cutting systems Laser parts , Laser cuts and sheet metal parts – with complete freedom of contours, quickly and precisely. Regardless of whether sample parts, small quantities or series parts: Using sketches, drawings, CAD data or samples, we process any desired number of laser parts individually according to your dimensions.
We deliver quickly and easily in express laser production:

The materials are in stock up to a panel size of 300 x 2,500 and 1,250 x 2,500 mm.
Quick and easy inquiries for laser parts and laser cuts

You want a quote for Laser parts and Laser cuts obtain or order directly from Gutekunst? Simply send us your CAD data, a sample, a drawing or a sketch with the desired number of pieces by post or email laserteile@gutekunst-formfedern.de . or through ours Inquiry form for laser parts . For the Express laser parts order you do not have to spend a lot of time registering or transferring DXF data to a system.
After receiving your request for express Laser parts and Laser cuts You will receive your individual offer within 24 hours * and after ordering the laser parts (only laser parts without bends) will be shipped within 48 hours *. Delivery within Germany is free. Gutekunst ships within Europe at low shipping costs or according to customer specifications.
* Please note our business hours (Mon-Thu 7:00 a.m. to 12:00 p.m. and 1:00 p.m. to 4:00 p.m., Fri 7:00 a.m. to 12:00 p.m.) and the current standard shipping times from DHL .
You also need a suitable one Surface treatment for your laser part ? Whether barreling, phosphating, burnishing, galvanizing or painting – we also carry out this work with an extended delivery time. Simply tell us which surface treatment you would like or let us know the environment in which it will be used.
If you have any questions about laser parts, laser cuts or sheet metal parts, you can contact our experts in the technical department directly. With 25 years of experience, we are happy to support you and work with you to find the right solution.
How to contact us:
E-mail: laserteile@gutekunst-formfedern.de
Technical department:
Phone (+49) 07445 8516-0
Fax (+49) 07445 8516-12
Business hours:
Monday – Thursday: 7 a.m. – 12 p.m. and 1 p.m. – 4 p.m.
Friday: 7 a.m. – 12 p.m.
Postal address:
Gutekunst Formfedern GmbH
Request laser parts
Siemensstrasse 11
D-72285 Pfalzgrafenweiler
Laser parts in express production