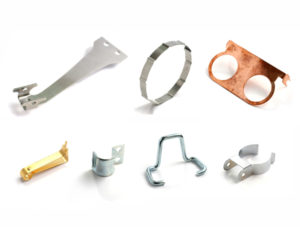 Drawing parts are industrial components that are manufactured according to customer requirements – as prototypes, in small quantities or in large series. In order to produce these special parts, drawings, CAD data and samples are necessary. The range of drawing parts extends from turned parts, extruded parts, stamped parts, laser parts to milled parts. Especially for stamped parts and laser parts, the production capabilities are in the focus of forming technology.
Overview of manufacturing processes for drawing parts
Turned parts
Turned parts are manufactured using CNC (Computerized Numerical Control) turning technology. In this processing method, a material made of metal or plastic is brought into a specific shape by machining. The workpiece to be machined rotates at a high speed. A turning tool, which is firmly clamped on a tool slide, moves along the material. The advantage: Users produce high quantities with the same quality on CNC lathes.
Impact extrusions
Customer-specific impact extruded parts can be produced in any geometric design and quantity using modern cold extrusion technology. In this process, regardless of hollow bodies, solid workpieces or multifunctional combination elements, different shapes and equipment can be produced from round wires using multi-stage presses. Users can adjust both the geometry and the part volume to enable production without material shrinkage. This makes impact extruded parts a cost-effective alternative to turned parts.
Stamped parts
Companies can produce stamped parts with the help of stamping tools and shape them into any desired form using a variety of forming techniques. They can process materials made of metal (primarily sheet steel), plastic, cardboard as well as leather and textiles. The stamping process is mainly suitable for mass production. The process itself is carried out in a pure punching or punch-bending process and can be carried out as a single step or as part of a multi-part production process. This consists of the following three parts:
Punch: The punch has the shape and size of the desired hole and is positioned on the top or bottom of the tool.
Hold-down device: The hold-down device strips the material from the punch directly after punching.
Die: The material is pressed into the die during punching. This prevents the workpiece from slipping.
Laserteile
Laser parts are metal parts specially manufactured according to customer requirements, which are cut from various flat materials with the help of computer-controlled CNC laser machines. The advantage: The process produces flawless cut edges with very fine contours. Based on the CAD data provided, the rapid production of prototypes and series parts is also convincing. The laser parts can be formed into any desired shape by a subsequent forming technique – for example edging, deep drawing, embossing or bending. The manufacturing costs are lower with this process compared to other methods such as stamping. This is especially true for prototypes and smaller batch sizes.
Milled parts
These components and products are manufactured using CNC milling technology. The machine processes materials such as metal, wood or plastic by chip removal. In contrast to turning, in this process the workpiece is firmly clamped while the milling tool moves. The result: The user receives high quantities with almost identical quality.
Drawing parts from Gutekunst Formfedern: Stamped parts, laser parts and stamped-bent parts with subsequent forming technology
Gutekunst Formfedern GmbH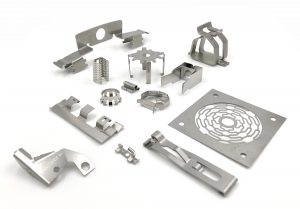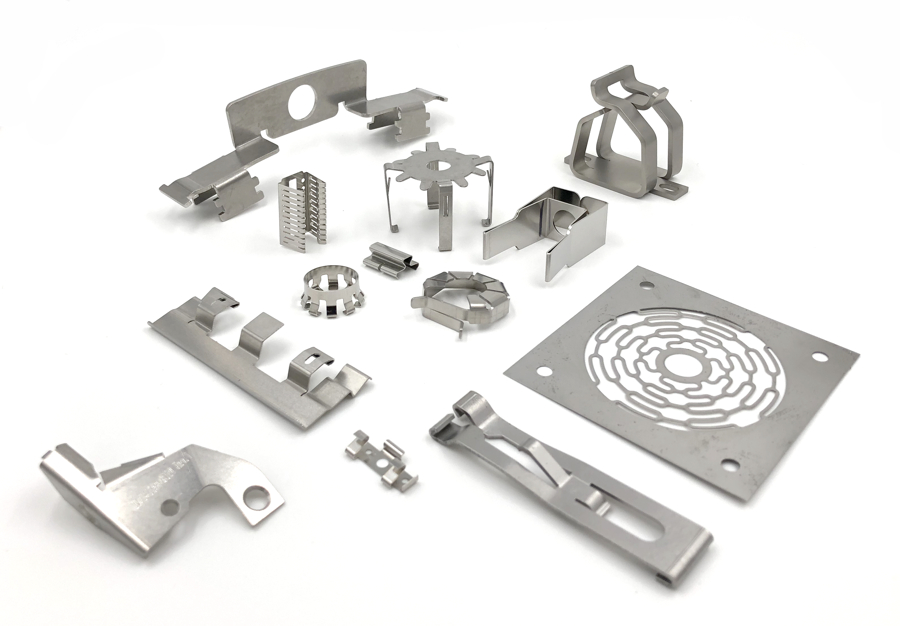 manufactures customer-specific drawing parts using the stamping and bending process, pure stamping technology or the laser cutting process with subsequent forming technology by bending, stamping, edging and deep drawing. And this according to requirements, shape and number of pieces. Especially in forming technology, there are no limits to the shaping of individual drawing parts. If required, Gutekunst offers final surface treatments such as vibratory grinding, barrel finishing, phosphating, burnishing, galvanizing or painting. In addition, the drawing parts can also be installed directly in provided assemblies. The choice of materials is extensive. Users can choose between normal spring steels as well as stainless steels, non-ferrous metals and coil metals in strip or plate form.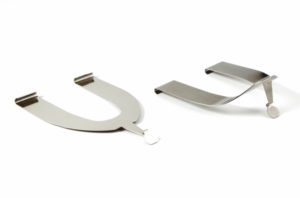 Production spectrum of drawing parts for punching technology and laser cutting
– Material thicknesses: 0.1 to 3.0 millimetres
– Belt widths: 1.0 to 150 millimetres
– Panel sizes: 1500 x 2500 millimetres
Manufacturing and forming technology is available for the following applications: Punching, lasering, edging, deep drawing, embossing, bending, grinding, assembling
You have the choice between the following material types:
– Normal steel and spring steel according to EN 10270-1
– C100S (1.1231) and C75S QT (1.1248)
– Stainless steel according to X10 CrNi 18-8 (1.4310), X7 CrNiAl 17-7 (1.4568) and X5 CrNiMo 17-12-2 (1.4401)
– Tin bronze CuSn 6 (2.1020)
– Copper beryllium CuBe 2 (2.1247)
– Electrical sheets according to EN 10106
– Aluminum AlMg3 and Al99
Surface Treatments: Surface treatments include, but are not limited to, deburring, barrel finishing, phosphating, burnishing, galvanizing and painting. For more information, please see the following link:
Price drawing parts
For quotations of stamped, lasered and formed drawing parts in large series, small quantities or as prototypes, please send a technical drawing or the CAD data with the desired characteristic of the drawing part to info@gutekunst-formfedern.de or contact our technical department directly by telephone on (+49) 07445 8516-0.
Anfrage Stanzbiegeteile & Stanzteile
For more information: