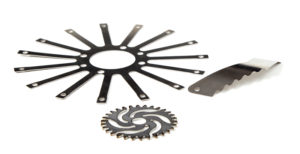 The possible uses of laser parts made of stainless steel are diverse and extensive. Depending on the industry requirements and the properties of the laser part, not only the advantages of the modern Laser cutting used, but also through additional properties Surface treatments for e.g. medical purity, insulating, food-safe, burr-free, fuel-resistant, acid-resistant etc. are also offered. The main buyers of stainless steel laser parts include customers from mechanical engineering, the Medical technology , aerospace engineering, Food and the Electrical engineering .
stainless steel is a versatile material with numerous practical properties : It is corrosion and temperature resistant, durable, easy to clean and chemically and microbiologically resistant. This means that it can also be used in areas with high hygienic requirements. In addition, stainless steel is hydrophobic and has low particle emissions.
Commonly used types of stainless steel for laser parts
Gutekunst Formfedern often processes the following types of stainless steel in plate sizes from 150 x 2,500 millimeters to 1,250 x 2,500 millimeters and in material thicknesses from 0.1 to 3.0 millimeters for the production of Laser parts and Spring components .
1.4310 (X10CrNi18-8) is an austenitic chrome-nickel stainless steel with good Formability . Due to its special mechanical properties, this material is the classic among stainless steels. It is therefore often used in the production of corrosion-resistant laser parts and spring components such as Form springs , Spring clips , Lock washers , Spring washers and Clamp springs used. This is due to any cold deformation Spring steel sheet – and Spring band steel not completely non-magnetic. The stainless steel 1.4310 is very often used in the automotive, (petro) chemical and food industries as well as in mechanical engineering, in drive technology and for electronic equipment.
1.4568 (X7CrNiAl17-7) is a rustproof precipitation hardenable chrome-nickel-aluminum alloyed stainless steel. The stainless steel sheet has very good long-term properties and very good corrosion resistance with only minimal warpage after the Heat treatment . When hardened, this stainless steel has excellent mechanical properties in environments with temperatures of up to 350 degrees Celsius. The stainless steel 1.4568 is used in the aerospace industry as well as for high-strength and corrosion-resistant applications used.
1.4401 (X5CrNiMo17-12-2) is an austenitic chrome-nickel-molybdenum stainless steel with a very good corrosion resistance against non-oxidizing acids and media containing chlorine. This stainless steel is suitable for applications in the food, textile and chemical industries or in medical technology. Stainless steel sheets made of 1.4401 have a lower strength than sheets made of 1.4310 and 1.4568. Instead, they are more corrosion-resistant and less magnetizable.
Protection against corrosion after laser cutting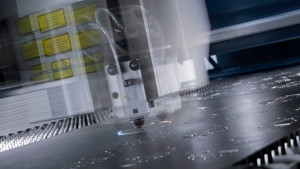 The stainless steel owes its freedom from rust to a thin one Passive layer on the surface. To a possible corrosion To avoid the stainless steel after laser cutting, it is advisable to add the laser parts made of stainless steel afterwards passivate . A self-regenerating protective layer is created on the surface through passivation chemicals or naturally with oxygen, the relative humidity and a chromium content of the stainless steel of over 10%.
Express order laser parts
You need fast individual laser parts and laser cuts the end Stainless steel or other metals ? Then simply send us your CAD data, a drawing or a sketch with the required number of pieces via our Inquiry form for laser parts or by email to laserteile@gutekunst-formfedern.de .
You will receive your individual offer Within 24 hours . Attention is paid to the optimal material utilization for small quantities, for sample laser parts as well as for large quantities Gutekunst form springs always the efficient placement of the laser cutting lines in his cost calculation. That is why Gutekunst processes form springs for a cost-optimized offer every request for laser cutting and laser parts individually. After receiving your order, we will send your laser parts and laser cuts (without Foldings and shaping ) within 48 hours. Delivery within Germany is free. We ship within Europe at low shipping costs or according to customer specifications. For more details, call +49 7445 85160.
For more information:
Laser parts made of stainless steel