Spring clips and Pipe clamps are used wherever components on pipes and shafts have to be adjusted, locked, snapped in or fixed in the right place. The great advantages of spring clips and pipe clips are: On the one hand, they ensure an exact position and a firm hold, but on the other hand, they can also be quickly released.
Order spring clips and pipe clips directly
The stock program of Gutekunst Formfedern GmbH offers a selected range of spring clips and pipe clips with a standard delivery time of three to five days. The spring clips and pipe clips come in two different ones Types of spring steel offered for sale – in normal spring steel CK75G (with an extra charge also with galvanized surface – galvanized) and in stainless steel 1.4310. Spring clips and pipe clips are also used, for example, as tool holders, component fasteners in machines and switch boxes, for routing hoses and cables and for fastening electric motors. The possible uses of spring clips and pipe clips are diverse.
To order or request a spring clip and pipe clamp, please click on the respective order number in the item selection listed below and tell us the desired number of items with your contact details. If you cannot find a suitable spring clip or pipe clamp, simply send us your requirements, a sketch, drawing or CAD data info@gutekunst-formfedern.de . Gutekunst Formfedern GmbH manufactures from any desired Spring steel sheet up to 3.00 millimeters material thickness and band widths from 5.0 to 60.0 millimeters any desired spring clip, pipe clamp, Spring clip and Shaped spring individually in form, function and quantity according to your specifications.
If you have any questions, please contact our sales department at (+49) 07445 8516-11 or vertrieb@gutekunst-formfedern.de .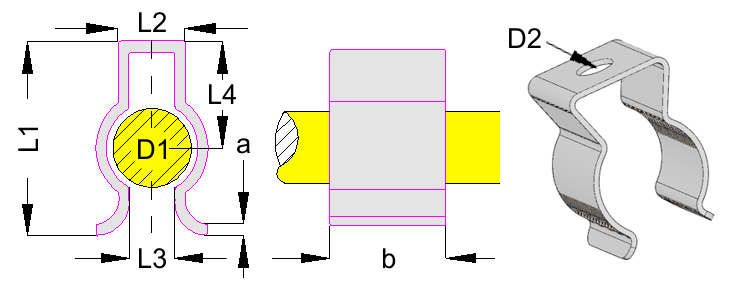 Bestell-Nr.
verzinkt
Stückpreis in EUR
ab Bestellmenge
Bestell-Nr.
rostfrei
Stückpreis in EUR
ab Bestellmenge
Klemme fuer Durchmesser
D1 [mm]
Material-
staerke
a [mm]
Material-
breite
b [mm]
Gesamt-
hoehe
L1 [mm]
Gesamt-
breite
L2 [mm]
Oeffnung
L3 [mm]
Abstand Mitte zur Befestigung
L4 [mm]
Bohrung
D2 [mm]
C130-3L

*CAD

*Datenblatt
1 St. = 11,17
3 St. = 5,46
7 St. = 3,49
17 St. = 2,25
37 St. = 1,86
75 St. = 1,80
X130-3L

*CAD

*Datenblatt
1 St. = 11,32
3 St. = 5,54
7 St. = 3,57
17 St. = 2,31
37 St. = 1,93
75 St. = 1,86
3
0,4
8
10
5
0,5
5
2,2
C130-4L

*CAD

*Datenblatt
1 St. = 11,17
3 St. = 5,46
7 St. = 3,49
17 St. = 2,25
37 St. = 1,86
75 St. = 1,80
X130-4L

*CAD

*Datenblatt
1 St. = 11,32
3 St. = 5,54
7 St. = 3,57
17 St. = 2,31
37 St. = 1,93
75 St. = 1,86
4
0,4
8
12
12
3
8
3,2
C130-5L

*CAD

*Datenblatt
1 St. = 11,32
3 St. = 5,54
7 St. = 3,57
17 St. = 2,31
37 St. = 1,93
75 St. = 1,86
X130-5L

*CAD

*Datenblatt
1 St. = 11,47
3 St. = 5,61
7 St. = 3,82
17 St. = 2,40
37 St. = 2,03
75 St. = 1,93
5
0,5
8
12
12
4
8
3,2
C130-6L

*CAD

*Datenblatt
1 St. = 11,32
3 St. = 5,54
7 St. = 3,57
17 St. = 2,31
37 St. = 1,93
75 St. = 1,86
X130-6L

*CAD

*Datenblatt
1 St. = 11,47
3 St. = 5,61
7 St. = 3,82
17 St. = 2,40
37 St. = 2,03
75 St. = 1,93
6
0,5
10
13
12
4
8
3,2
C130-8L

*CAD

*Datenblatt
1 St. = 11,47
3 St. = 5,61
7 St. = 3,82
17 St. = 2,40
37 St. = 2,03
75 St. = 1,93
X130-8L

*CAD

*Datenblatt
1 St. = 11,76
3 St. = 5,94
7 St. = 4,12
17 St. = 2,61
37 St. = 2,16
75 St. = 2,07
8
0,5
10
16
12
5
10
3,2
C130-10L

*CAD

*Datenblatt
1 St. = 11,47
3 St. = 5,61
7 St. = 3,82
17 St. = 2,40
37 St. = 2,03
75 St. = 1,93
X130-10L

*CAD

*Datenblatt
1 St. = 11,76
3 St. = 5,94
7 St. = 4,12
17 St. = 2,61
37 St. = 2,16
75 St. = 2,07
10
0,5
15
18,5
12
7
12
4,5
C130-12L

*CAD

*Datenblatt
1 St. = 11,76
3 St. = 5,94
7 St. = 4,12
17 St. = 2,61
37 St. = 2,16
75 St. = 2,07
X130-12L

*CAD

*Datenblatt
1 St. = 11,98
3 St. = 6,21
7 St. = 4,30
17 St. = 2,88
37 St. = 2,45
75 St. = 2,40
12
0,5
15
20
12
8
12
4,5
C130-14L

*CAD

*Datenblatt
1 St. = 11,76
3 St. = 5,94
7 St. = 4,12
17 St. = 2,61
37 St. = 2,16
75 St. = 2,07
X130-14L

*CAD

*Datenblatt
1 St. = 11,98
3 St. = 6,21
7 St. = 4,30
17 St. = 2,88
37 St. = 2,45
75 St. = 2,40
14
0,6
15
23
16
10
14
5,5
C130-16L

*CAD

*Datenblatt
1 St. = 11,76
3 St. = 5,94
7 St. = 4,12
17 St. = 2,61
37 St. = 2,16
75 St. = 2,07
X130-16L

*CAD

*Datenblatt
1 St. = 11,98
3 St. = 6,21
7 St. = 4,30
17 St. = 2,88
37 St. = 2,45
75 St. = 2,40
16
0,8
15
25
16
10
16
5,5
C130-18L

*CAD

*Datenblatt
1 St. = 11,98
3 St. = 6,21
7 St. = 4,30
17 St. = 2,88
37 St. = 2,45
75 St. = 2,40
X130-18L

*CAD

*Datenblatt
1 St. = 12,20
3 St. = 6,39
7 St. = 4,67
17 St. = 3,24
37 St. = 2,64
75 St. = 2,58
18
0,8
20
30
20
13
18
6,5
C130-20L

*CAD

*Datenblatt
1 St. = 11,98
3 St. = 6,21
7 St. = 4,30
17 St. = 2,88
37 St. = 2,45
75 St. = 2,40
X130-20L

*CAD

*Datenblatt
1 St. = 12,20
3 St. = 6,39
7 St. = 4,67
17 St. = 3,24
37 St. = 2,64
75 St. = 2,58
20
0,8
20
32
14
14
20
6,5
C130-22L

*CAD

*Datenblatt
1 St. = 11,98
3 St. = 6,21
7 St. = 4,30
17 St. = 2,88
37 St. = 2,45
75 St. = 2,40
X130-22L

*CAD

*Datenblatt
1 St. = 12,20
3 St. = 6,39
7 St. = 4,67
17 St. = 3,24
37 St. = 2,64
75 St. = 2,58
22
1
30
35
16
16
22
6,5
C130-25L

*CAD

*Datenblatt
1 St. = 11,98
3 St. = 6,21
7 St. = 4,30
17 St. = 2,88
37 St. = 2,45
75 St. = 2,40
X130-25L

*CAD

*Datenblatt
1 St. = 12,20
3 St. = 6,39
7 St. = 4,67
17 St. = 3,24
37 St. = 2,64
75 St. = 2,58
25
1
30
38
20
19
25
6,5
C130-30L

*CAD

*Datenblatt
1 St. = 12,20
3 St. = 6,39
7 St. = 4,67
17 St. = 3,24
37 St. = 2,64
75 St. = 2,58
X130-30L

*CAD

*Datenblatt
1 St. = 12,35
3 St. = 6,56
7 St. = 4,84
17 St. = 3,38
37 St. = 2,90
75 St. = 2,82
30
1
30
45
20
22
30
6,5
C130-35L

*CAD

*Datenblatt
1 St. = 12,20
3 St. = 6,39
7 St. = 4,67
17 St. = 3,24
37 St. = 2,64
75 St. = 2,58
X130-35L

*CAD

*Datenblatt
1 St. = 12,35
3 St. = 6,56
7 St. = 4,84
17 St. = 3,38
37 St. = 2,90
75 St. = 2,82
35
1,5
30
55
25
27
35
6,5
C130-38L

*CAD

*Datenblatt
1 St. = 12,20
3 St. = 6,39
7 St. = 4,67
17 St. = 3,24
37 St. = 2,64
75 St. = 2,58
X130-38L

*CAD

*Datenblatt
1 St. = 12,35
3 St. = 6,56
7 St. = 4,84
17 St. = 3,38
37 St. = 2,90
75 St. = 2,82
38
1,5
35
60
25
27
38
6,5
C130-42L

*CAD

*Datenblatt
1 St. = 12,35
3 St. = 6,56
7 St. = 4,84
17 St. = 3,38
37 St. = 2,90
75 St. = 2,82
X130-42L

*CAD

*Datenblatt
1 St. = 12,63
3 St. = 6,96
7 St. = 5,15
17 St. = 3,68
37 St. = 3,13
75 St. = 3,06
42
1,5
30
62
30
34
42
6,5
C130-50L

*CAD

*Datenblatt
1 St. = 12,35
3 St. = 6,56
7 St. = 4,84
17 St. = 3,38
37 St. = 2,90
75 St. = 2,82
X130-50L

*CAD

*Datenblatt
1 St. = 12,63
3 St. = 6,96
7 St. = 5,15
17 St. = 3,68
37 St. = 3,13
75 St. = 3,06
50
1,5
30
72
40
42
50
6,5
C130-60L

*CAD

*Datenblatt
Preis auf Anfrage
X130-60L

*CAD

*Datenblatt
Preis auf Anfrage
60
2
40
85
50
46
55
6,5
C130-70L

*CAD

*Datenblatt
Preis auf Anfrage

X130-70L

*CAD

*Datenblatt
Preis auf Anfrage
70
2
50
110
50
46
70
6,5
C130-80L

*CAD

*Datenblatt
Preis auf Anfrage
X130-80L

*CAD

*Datenblatt
Preis auf Anfrage
80
3
50
113,5
58
65,7
70
6,5
Further information:
Buy spring clips and pipe clips