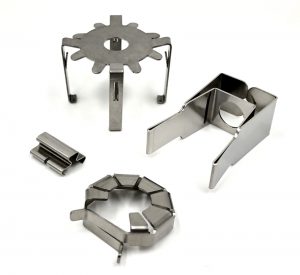 Spring clips – also called spring clips and pipe clips – are stamped or laser cut from spring strip steel and then shaped. In addition to offering spring clips in various standard sizes from stock, spring clips made of a wide variety of materials are also manufactured individually to customer specifications.
Use of spring clips
Spring clips are used where components are in the right place have to be adjusted, locked, locked or fixed . The great advantages of spring clips are: On the one hand, they ensure an exact position and a firm hold, but on the other hand, they can also be released quickly. And the geometry to be clamped can be adjusted for any desired shape.
Manufacture of spring clips
At Gutekunst shaped springs, spring clips are made of spring band steel depending on the requirements, shape and quantity Stamping and bending process or from flat material in Laser cutting process manufactured. Any desired geometry and property can be realized in material thicknesses of up to 3.00 millimeters and widths from 5.0 to 60.0 millimeters. Normally, spring clips are made from the spring band steels C75s, also with a galvanic surface, stainless steel 1.4310 and various non-ferrous metals. Spring clips can also be manufactured from any available spring material with final surface treatment, depending on requirements. Individual spring clips are also cut in small quantities using the cost-effective laser cutting process and then shaped. Furthermore, individual laser markings can be applied if required.
Offer spring clips
Spring clips are usually used for tool holders, metal clips, Spring clips , Pipe clamps, used for hose routing and securing. They are also used for fastening components within machines, switch boxes, lamp holders, profiles and much more …
Gutekunst Formfedern offers a selection of spring clips in the spring materials C75s and stainless steel 1.4310 from stock or individually according to customer specifications in small and large quantities. For an indvidual spring clip, please simply send your requirements via the spring request button below or to info@gutekunst-formfedern.de. The Gutekunst technicians will design the right spring clip for you.
Federnanfrage
For more information: