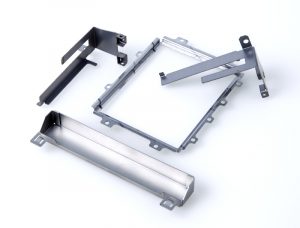 In stamping and forming technology, stamped and bent metal parts are produced in any desired shape. They are among the components that are most frequently used across industries. The range includes simple metal moldings, spring clips or pipe clamps, spring clips or retaining springs, which fix the brake pads in cars and trucks, for example. There are also electrically conductive ones Spring contacts as well as medically pure components with a flawless surface that are specially hardened and independent of temperature. To produce them, different punching techniques combined with different forming techniques are used.
Stamping and forming technologies at a glance:
Stamping technology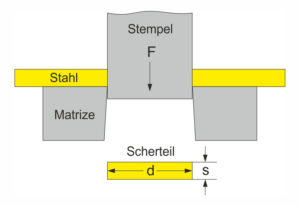 With conventional punching of metal, punching machines and punching tools are required in the desired dimensions of the required components. The tool consists of an upper tool, the so-called punch, and the die, the lower tool. In order to achieve optimal results, the upper and lower tools must fit together perfectly. This is how the process works: The punching machine is equipped with the desired punching tool. The punch is above, the die below the flat steel or sheet metal. Depending on the thickness of the material, the punch pushes through the component with a cutting force of up to 250 tons. The die ensures that it is not bent in the process. This non-cutting cutting process is also called shear cutting.
Forming technology
In the stamping and bending technology, further processing steps from the forming technology are used in addition to stamping. In addition to the pure multi-stage forming, this includes the following processes:
Pressing in – for example of threaded bolts
Thread forming and thread cutting
Rivets
Screw
Assembly production
The stamping and bending process is particularly suitable for large quantities. In addition, the method is cost-efficient, precise and at the same time more energy-saving than, for example, with Laser cutting because the material does not have to be melted. Mainly automatic punching and bending machines with freely programmable bending dies and punching tools made of powder steel or carbide in the form of strip material are used. These stamping-bending machines are used to produce stampings and stamped-bent parts ready to drop from various material steels. The special feature: The punching tools are still wear-resistant even after millions of parts.
Advantages of stamping and bending technology compared to other production processes:
Fast and energy-saving process because the material is not melted like with laser cutting.
No thermal change, as the processing is purely mechanical.
There are many Forming techniques possible, also in one operation.
Stamped parts and stamped bent parts are produced in a short time with consistently high quality.
Disadvantage of the stamping and bending technology compared to other production processes:
Not every shape and material thickness can be punched with this technique. Then the stamped and stamped bent parts are cut using the laser cutting process and post-processed using various forming techniques.
Uneconomical with small quantities
From what quantity are stamped parts and stamped bent parts worthwhile?
Stamped parts and stamped bent parts can be produced cost-effectively from a production quantity of 2,000 pieces. With sample parts, small and medium quantities, the production of punching tools and progressive tools is therefore not worthwhile. Such parts become cheaper with laser cutting or processed by bending using automatic bending machines and other forming techniques.
Offer stamping and forming technology at Gutekunst Formfedern
Depending on the production quantity and processing method, Gutekunst uses various automatic punching and forming presses, eccentric presses as well as automatic bending and folding machines. Gutekunst Formfedern usually produces stamped parts and stamped-bent parts in larger quantities on automatic stamping and bending presses with a pressing force of eight to 63 tons. Material thicknesses of 0.05 to 3.0 millimeters are processed with a maximum bandwidth of 150 millimeters. Stamped parts and stamped-bent parts can be made of various spring steel grades such as C75S, C100S, stainless steel 1.4310, 1.4301, aluminum, non-ferrous metals such as copper CuSn6, CuZn37 and CuBe2, bronze, brass and various special alloys.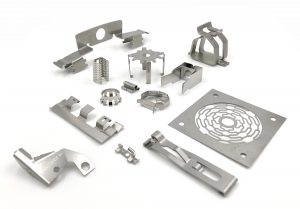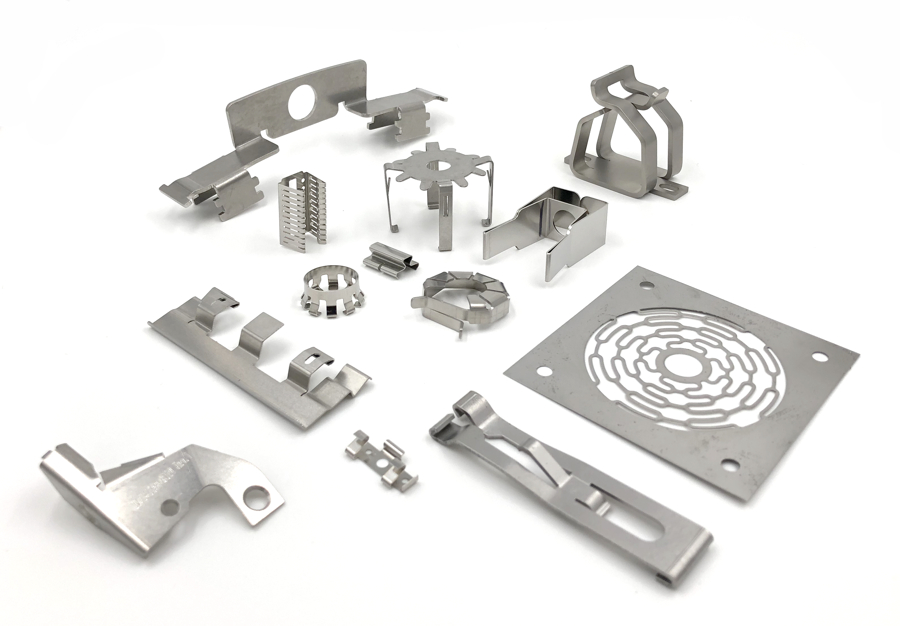 Stamped parts and stamped-bent parts from Gutekunst include simple metal molded parts, spring clips, molded springs, pipe clamps, retaining springs as well as electrically conductive spring contacts or even medically clean components with flawless surfaces. Depending on the requirements, Gutekunst Formfedern offers almost all qualities of metal materials: punched, lasered, bent, folded, welded, riveted, screwed or processed into complex assemblies – regardless of whether flat steel, sheet metal or split strip.
For the production of stampings and stamped-bent parts, Gutekunst frequently processes materials such as normal spring steel, stainless steels, aluminum or non-ferrous metals such as copper, bronze, brass and beryllium copper (CuBe) as well as a wide variety of special alloys. Customers receive these in larger quantities with progressive tools in one operation. Regardless of which material is required: the production spectrum at Gutekunst Formfedern GmbH includes material thicknesses from 0.05 to 3.0 millimeters, belt widths from 1.0 to 150 millimeters, plate sizes up to 1,500 x 2,500 millimeters and a pressing force of 180 to 800 kilonewtons .
Additional surface treatments
The stamped parts and stamped-bent parts can also be given additional properties at Gutekunst by means of subsequent surface treatment such as vibratory finishing, galvanizing, silver-plating, gold-plating, burnishing, hydrogen-brittling or etching….
Are you interested in stamped parts and stamped bent parts in large quantities, small quantities or as prototypes? Then please send a sketch / drawing with the desired number of pieces to the following inquiry button to prepare an offer and to test the production of stamped and stamped bent parts info@gutekunst-formfedern.de …
Anfrage Stanzbiegeteile & Stanzteile
… or send a sample of the stamped and bent part to:
Gutekunst Formfedern GmbH
Siemensstrasse 11
D-72285 Pfalzgrafenweiler
Telephone (+49) 07445 85160
For more information, see:
Stamping and forming technology offer