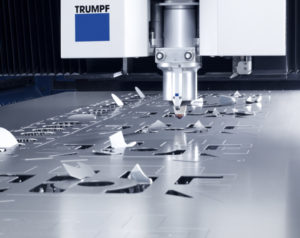 The production of technical springs, such as shaped springs, flat springs and leaf springs, is as versatile and complex as their application and design possibilities. Depending on Shaping , Properties, quantity, Material type and material thickness, different manufacturing techniques are therefore used. The following is a brief overview of the production techniques that these are normally used for.
Laser cutting technology
For prototypes, samples and Small quantities up to 2000 pieces are shaped springs, flat springs and Contact springs Cut out in the basic shape with automatic laser cutting machines and then shaped with automatic bending machines. The big advantage of Laser cutting is that any basic shape and contour with the finest cutting edges can be produced without tooling costs.
Stamping technology
For larger quantities, from 2000 pieces, Form springs and Leaf springs happy in Stamping and stamping bending processes produced. On modern stamping and bending machines, simple geometries, in particular, can be produced efficiently, up to 12 levels. Additionally required punching and bending tools are individually manufactured using wire EDM technology. Unsightly cut edges are caused by subsequent Tumbling beautiful and burr-free in vibratory finishing machines.
Etching technique
In etching technology, unwanted material is removed using a cold chemical process. This manufacturing technique is used for very filigree Flat springs and Contact springs is used because, in addition to being absolutely free of burrs, there are no tensions or deformations. For this purpose, the etching technique completely preserves the hardness and magnetic properties of the material.
Water jet cutting technology
In water jet cutting, similar to etching technology, the material is not subject to any thermal or mechanical influences from the cutting joint. The water jet cutting process is particularly suitable for larger material thicknesses and is rarely used in the manufacture of technical springs.
Forming technology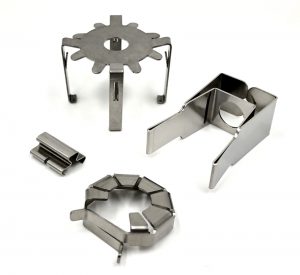 In addition to the finished production of simple shaped springs, flat springs and leaf springs using the stamping and bending process, the other production techniques require the basic shape to subsequently undergo further forming processing. For this purpose, in addition to universal tools, mostly laser-controlled bending machines are used, which are based on specified Bending radii ensure repeat accuracy within a tolerance range of +/- 0.05 mm.
Further final work such as embossing, riveting, pressing, gluing, joining, assembling and assembling in assemblies can also be carried out.
Form springs, flat springs and leaf springs from Gutekunst
As a manufacturer of Form springs , Flat springs , Leaf springs , Contact springs and Stamped and bent parts uses Gutekunst Formfedern several of the above manufacturing techniques for optimal manufacture. If you want to know which production technology is most suitable for your technical spring, or if you need a professional design with a non-binding price offer. Then simply send via the following Inquiry form a drawing | Sketch | CAD data of the required technical spring or contact the Gutekunst technicians directly by phone at (+49) 07445 85160 or by email at: info@gutekunst-formfedern.de .
Further information can also be found here:
Production of shaped springs, flat springs and leaf springs