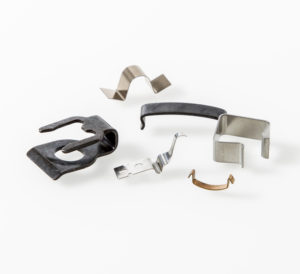 Metal clips are used to Fix and attach different objects and can be used in any desired shape , function and nature can be produced individually. Metal clips belong to the product family of Spring clips . They can be used in a variety of ways and are also used as retaining clips, mounting clips and fastening clips for Fix of electrical or structural elements as well as for clamping and attaching name and inscription labels. Metal clips are also suitable for Component fastenings within machines, switch boxes, lamp holders, profiles and much more …
The greatest advantage of metal clips is their accuracy Fixation and attachment of different objects and that can be quickly detached again. To do this, the too clamping geometry can be customized for any shape you want.
Made-to-measure metal clips for every application
At Gutekunst shaped springs, metal clips are made from spring band steel depending on the shape and quantity Stamping and bending process or from flat material in Laser cutting process made to measure. Any desired geometry and property can be realized in material thicknesses of up to 3.00 millimeters. Depending on the application, work environment and Clamping force represents Gutekunst form springs Metal clips made from a wide variety of Spring materials from:
1.1248 spring steel (C75S + QT hardened)
1.4310 stainless steel (X10CrNi188)
1.4301 stainless steel (X5CrNi1810)
1.4401 stainless steel (X5CrNiMo171-12-2)
1.4568 stainless steel (X7CrNiAI17-7)
CW101C copper beryllium spring steel (CuBe2)
2.4669 Inconel (NiCr15Fe7TiAI)
2.4632 Nimonic 90 (NiCr20CO18Ti)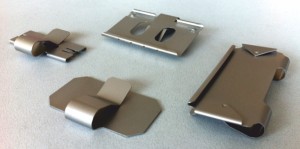 The surface the metal clips for special conditions treated additionally. In addition to galvanic surface refinements such as bright galvanizing, Gutekunst Formfedern also uses special corrosion protection, optical or conductive Surface treatments. If necessary, the metal clips can also be refined for medical purposes for changing inscriptions in the clinic or with organic or inorganic surface systems.
Request individual metal clips
Gutekunst form springs develops and manufactures individual metal clips as prototypes, in Small quantities and large series. If you are interested, just send us under the following Form springs inquiry form the data of the desired metal clip with details of the number of pieces and the drawing or the CAD data. We will prepare a non-binding offer for you at short notice. You can also contact our technical department directly at technik@gutekunst-formfedern.de and by phone (+49) 07445 8516-30.

Further information
Made-to-measure metal clips