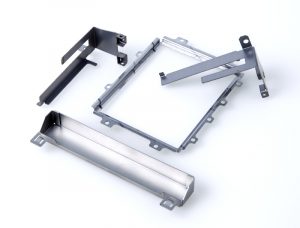 In stamping and forming technology, stamped parts, Stamped and bent parts and deep-drawn metal parts specially manufactured according to customer specifications. If Strip steel , Flat steel or sheet metal, depending on the machine selection, almost all qualities of steels and non-ferrous metals, such as stainless steel, spring steel, aluminum, non-ferrous metals and various special alloys can be punched, formed, folded, embossed, deep-drawn, lasered, welded, riveted, screwed and into complex assemblies are processed. The stamping and forming technology is characterized by the Stamping and bending process as a cost-efficient, precise and energy-saving manufacturing method. That is why components from stamping and forming technology are used most frequently across all industries.
Stamping and forming technology at Gutekunst Formfedern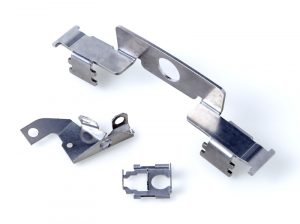 Manufactures with modern punching, punching and bending machines Gutekunst Formfedern simple and complex shapes of stamped and stamped bent parts in the best quality. Automatic stamping machines with freely programmable bending punches are used for the production of stamped and bent parts in large numbers. Equipped with different press forces from 180 to 800 kN and a large number of bending punches Material thicknesses from 0.05 to 3.0 mm and strip thicknesses of up to 150 mm can be processed precisely and efficiently. The punching tools required for this are manufactured in our own tool shop from powder steels and hard metals, which are wear-resistant and highly precise, even after millions of parts. at small and medium-sized quantities , as well as complex stamped and stamped bent parts, the basic dimensions are stamped or separately laser cut and then perfectly with the given Bending radii and angles are formed on semi or fully automatic bending machines.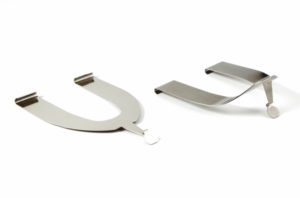 Cost-efficient production of large quantities with constant precision – these are the characteristics of stamped and stamped bent parts. In addition, there are no limits to the shaping of stamping and forming technology. And if the effort for the production of punching and Progressive tools does not calculate, the parts are laser cut – especially with sample parts, small and medium-sized production quantities – and further processed with the help of automatic bending machines. The most common stamped and bent parts from Gutekunst Formfedern include the most varied shapes of metal molded parts, Spring clips , Spring clips , Form springs , Retaining springs as well as electrically conductive Spring contacts or medically pure components with a flawless surface.
Production range of stamping and forming technology
Gutekunst Formfedern produces individual stamped and stamped parts on stamping, bending and folding machines in simple and complex shapes based on drawings, sketches, CAD data and samples with the following properties:
In tape thicknesses from 0.05 to 3.0 millimeters
In belt widths up to 150 mm
In panel sizes of 300 X 2,500 and 1,200 X 2,500 millimeters
With press force from 8 to 80 tons
With our own tool shop for transfer tools, follow-on tools, follow-on composite tools
From the materials:

Normal steel and spring steel according to EN 10270-1
C100S (1.1231) and C75S QT (1.1248)
Stainless steel after X10 CrNi 18-8 (1.4310), X7 CrNiAl 17-7 (1.4568) and X5 CrNiMo 17-12-2 (1.4401)
Tin bronze CuSn 6 (2.1020)
Copper beryllium CuBe 2 (2.1247)
Electrical steel sheets according to EN 10106
aluminum AlMg3 and Al99
Other materials on request

With laser marking
In large series, small quantities or as prototypes
Supplementary work on stamping and forming technology
In addition to stamping and forming technology, Gutekunst Formfedern offers other processing steps, such as:
Drill
Pressing in – for example of threaded bolts
Thread forming and thread cutting
welding and soldering
Riveting and nibbling
Screwing and joining
Assemble
Assembly production
Additional surface treatment
If necessary, Gutekunst Formfedern equips the stamped and stamped bent parts with subsequent ones Surface treatments with additional properties. This includes processes such as phosphating, burnishing, hydrogen desbrittlement, barrel finishing, vibratory grinding, galvanizing, bright galvanizing, silvering and gold plating, delta micro-layers, etching or painting.
Request for quotation stamped parts and stamped and bent parts
You are interested in Punch share and Stamped and bent parts in large series, small quantities or as prototypes? Then send the data of the required stamped and bent part with the number of pieces and a drawing / CAD data attached using the inquiry button below. We will provide you with a non-binding offer at short notice, regardless of the number of items (samples, small quantities, large series).
Spring request
Or contact our technical department directly at info@gutekunst-formfedern.de and phone (+49) 07445 85160.
For more information, see:
Stamping and forming technology