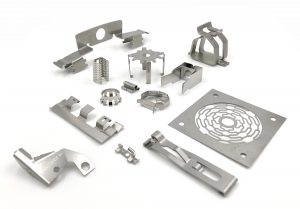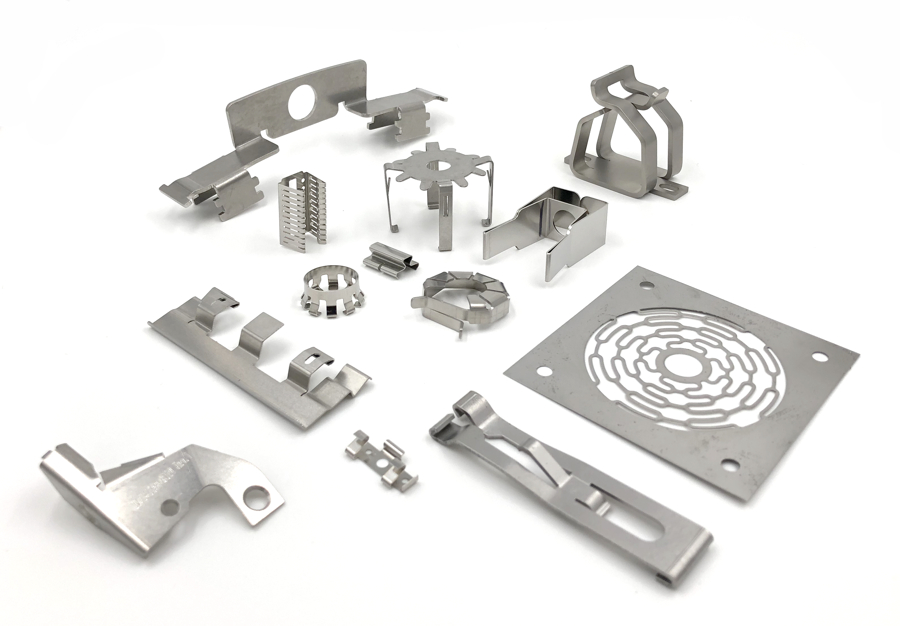 Stamped parts and stamped-bent parts are frequently offered across industries as spring elements in the form of spring clips, spring clips, shaped springs, tube clamps, clamping springs as well as electrically conductive spring contacts. The standard range of stampings and stamped-bent parts also includes metal formed parts for use in medical technology with medically clean and flawless surfaces, as well as in numerous other applications in mechanical engineering, the automotive and food industries, and in electrical and aerospace engineering.
As a rule, stamped parts and stamped-bent parts with arbitrary shapes and contours are produced in large quantities. Companies use stamping techniques combined with various forming techniques for this purpose. This basic technology enables fast processing times with consistently good quality in large quantities.
Stamped parts and stamped bent parts in larger quantities
The punching and punch-bending process is particularly suitable for larger quantities. This method is also cost-efficient, precise and more energy-saving than laser cutting, for example. Because the material does not need to be melted. Automatic punching and bending machines with freely programmable bending dies and punching tools made of powder steel or carbide in the form of strip material are mainly used. The special feature: The punching tools show no wear even after millions of parts have been produced.
Advantages of stamping and bending technology compared to other production processes:
Fast and energy-saving because the material is not melted as in laser cutting.
No thermal change, as the processing is purely mechanical.
A wide range of forming techniques are possible, even in a single operation.
Stamped and stamped-bent parts are produced in a short time with consistently high quality.
Disadvantage of the stamping and bending technology compared to other production processes:
Cost-efficient from a production quantity of 2000 pieces
Stamped parts and stamped bent parts can be produced cost-effectively from a production quantity of 2,000. For sample parts, small and medium quantities, the production of stamping and progressive dies is not worthwhile. Such parts are produced more cheaply with laser cutting and by bending with the help of automatic bending machines and other forming techniques.
Offer stamped parts and stamped bent parts from Gutekunst Formfedern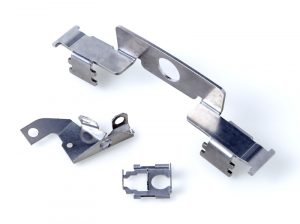 Gutekunst Formfedern is a manufacturer of stamped parts and stamped-bent parts on automatic stamping presses with a press capacity of eight to 63 tons. Material thicknesses of 0.05 to 3.0 millimeters are processed with a maximum bandwidth of 150 millimeters. The components can be manufactured from different steel grades: C75S, C100S, stainless steel 1.4310, 1.4301, aluminum, non-ferrous metals such as copper CuSn6, CuZn37 and CuBe2, bronze, brass and various special alloys. Depending on the production volume and processing method, various automatic punching presses, eccentric presses and automatic punching and bending machines are used. Customers receive the components in larger quantities – manufactured in a single operation.
In punching and bending technology, further processing steps from forming technology are added in addition to punching. In addition to pure multi-stage forming, among other things:
Pressing in – for example of threaded bolts
Thread forming and thread cutting
Rivets
Screw
Assemble
Assembly production
Offer additional surface treatments
If required, Gutekunst Formfedern offers subsequent surface treatments with additional properties for its stamped parts and stamped-bent parts. These include processes such as phosphating, burnishing, hydrogen deflashing, barrel finishing, vibratory finishing, zinc plating, bright zinc plating, silver and gold plating, delta microlayering, burnishing, hydrogen deflashing, etching and painting.
Gutekunst Formfedern manufactures stamped parts and stamped bent parts as prototypes, in small and large series – from design to surface treatment. As a manufacturer of customized drawing parts made of flat material, Gutekunst Formfedern has been involved in stamping and forming technology since 1990. Based on many years of know-how and the latest technology, Gutekunst Formfedern supports its customers in design, tool and prototype construction as well as in manufacturing and logistics.
Request for quotation stamped parts and stamped and bent parts
If required, please send us the data of the required stamped part or stamped-bent part with indication of the number of pieces and with enclosure of a drawing/CAD data under the following inquiry button. We will provide you with a non-binding offer at short notice, regardless of the number of items (samples, small quantities, large series).
Anfrage Stanzbiegeteile & Stanzteile
Or contact our technical department directly at info@gutekunst-formfedern.de and phone (+49) 07445 85160.
For more information, see:
Offer stamped parts and stamped bent parts