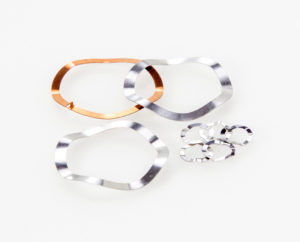 Screw connections that loosen unnoticed can cause serious accidents and disasters. So that are suitable Screw locks in the form of individually corrugated Spring washers and finger spring washers to maintain a frictional connection very important. It is true that the mechanical frictional resistance combined with the clamping forces between the nut, screw and the clamped parts is often sufficient for self-locking. However, the pre-tensioning force in the screw connection must be large enough to prevent relative movement between the components. If this is not the case, the connection can loosen itself without special screw locking – for example in the event of vibrations and repeated movements in the longitudinal or transverse direction.
In order to prevent screws from loosening of their own accord, the designer can no longer refer to the usual standards when designing screw locking devices such as spring washers or serrated lock washers. The German Institute for Standardization (DIN) has withdrawn the relevant standards for subsequent screw locking devices without replacing them because they have proven to be ineffective under certain circumstances.
Spring washers DIN 127, DIN 128 and DIN 6905
Spring washers DIN 137 and DIN 6904
Toothed lock washers DIN 6797
Serrated lock washers DIN 6798
Lock washers DIN 93, DIN 432 and DIN 463
Safety catches DIN 526
Lock nuts DIN 7967
Castle nut DIN 937 with split pin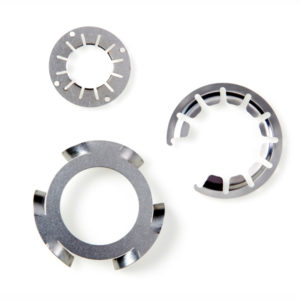 Here today the designer has to rely on his experience or the experience of the manufacturer for screw locking in order to optimally prevent a relative movement between the connecting elements. The most common method for this is still the use of individual Spring washers . However, at least 80 percent of the pre-tensioning force must be retained in order to secure the screw connection non-positive to secure. Therefor are individually corrugated Spring washers , Finger spring washers , Clamp springs or Metal moldings the right solution.
Which screw locking device fits best depends on the particular application. For example, electrical connections do not use many conventional screw locks. Resilient elements such as special ones are usually suitable here conductive Spring washers or Form springs , which in addition to the screw locking device also the electrical contact to guarantee.
With the wide range of application-specific Spring washers , Finger spring washers , Form springs and Metal moldings is Gutekunst form springs an important contact for individual screw locking.
If you have a need for an individual made-to-measure screw locking device, simply send us the following Inquiry button or under info@gutekunst-formfedern.de the data of the required screw locking device with details of the number of pieces and the drawing or the CAD data. We would be happy to make you a non-binding offer at short notice. For further information, please contact our technical department directly on (+49) 07445 8516-30.
You can find more interesting topics at:
Made-to-measure screw locking