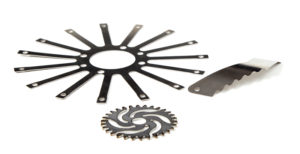 When it comes to producing metal parts with complex outlines quickly and precisely, this is it Laser cutting exactly the right processing method. The laser works efficiently and wear-free, it can be used flexibly and cuts metal without contact and with almost no force. This can be done from batch size 1 Laser cutting economical deploy.
Laser cutting in small quantities and large series
Gutekunst Formfedern offers contract laser cutting of steel, stainless steel, aluminium, copper, bronze alloys, electrical sheet and numerous other metals on Trumpf laser cutting systems – with complete freedom from contours, quickly and precisely, in small quantities or large series. Based on sketches, drawings, CAD data or samples, Gutekunst Formfedern cuts any desired number of laser parts individually according to your specifications. Panel sizes of 300 x 2,500 and 1,200 x 2,500 millimeters with material thicknesses of 0.1 to three millimeters are possible. The following materials are used:
Normal steel and spring steel according to EN 10270-1
C100S (1.1231) and C75S QT (1.1248)
Stainless steel after X10 CrNi 18-8 (1.4310), X7 CrNiAl 17-7 (1.4568) and X5 CrNiMo 17-12-2 (1.4401)
Tin bronze CuSn 6 (2.1020)
Copper beryllium CuBe 2 (2.1247)
Electrical steel sheets according to EN 10106
aluminum AlMg3 and Al99
Further and provided metals on request
Two laser cutting processes in use
In laser cutting, a distinction is made between two processes: laser flame cutting and laser fusion cutting. Gutekunst Formfedern works with both variants and uses the best process depending on the requirements and type of metal. When editing stainless steel or aluminum fusion cutting is usually used. Here nitrogen is used as the cutting gas. The gas does not react with the metal and drives it out of the kerf under high pressure. Flame cutting uses oxygen as the cutting gas. This reacts with the metal and burns it when cutting. Both methods lead to the same result: efficiently, quickly and precisely manufactured Laser parts in very high quality.
Laser cutting costs

The costs for laser cutting are usually made up of the factors material type, material thickness, cutting length (cutting time costs) and the number of openings to be cut. The setup and programming costs also play a role. In contrast to the production of stamped parts, the number of pieces to be produced is not decisive for the calculation. The process and thus the effort of laser cutting remain the same for each individual component, whether one or 10,000 pieces. At the Laser cutting On the other hand, material recycling and cutting line optimization have a positive effect on the price as the number of items increases. Because with an efficient cutting line matrix through optimally placed CAD data, cutting paths can be simplified and material costs saved.
Gutekunst Formfedern pays attention to the optimal material utilization and the most efficient placement of the laser cutting lines with every order. Therefore, the Gutekunst team reviews each laser cutting request within 24 hours to ensure that all factors are considered for a fair quote price. This means that customers always receive a cost-optimized offer.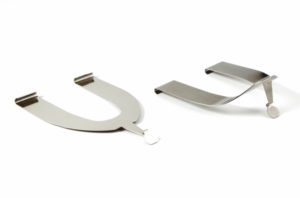 In addition to high-quality laser cutting, the Gutekunst Formfedern portfolio also includes further services. All laser cuts can be provided with laser markings. Gutekunst Formfedern can also take care of the customer's request complementary shapes such as bending, embossing, edging and deep drawing. There are hardly any limits to the design. The final surface treatment according to customer request or adapted to the application conditions of the laser part, such as barrel finishing, phosphating, burnishing, galvanizing, painting, etc., is also possible. And last but not least, Gutekunst Formfedern also offers the option of integrating the laser cuts directly into provided assemblies.
Quality and innovative solutions – not just for laser cutting
If complex shapes or multi-use properties – the company founded in 1990 stands alongside the best quality Gutekunst Formfedern GmbH from Pfalzgrafenweiler for innovative solutions and comprehensive service right from the start. Certified according to ISO 9001:2008, 14001, 18001 and 45001, Gutekunst offers with its extensive and modern machine park A very high part precision and repeat accuracy on CAD / CAM-controlled laser, punching, folding, bending and wire-cutting systems. The company ensures fast and optimal order processing through in-house toolmaking, CAD-based order and production control and the "all-in-one principle" with personalized order management.
Quick and easy request
Send us your CAD data, a drawing or sketch with the desired number of pieces by email to calculate the laser cuts in contract manufacturing laserteile@gutekunst-formfedern.de or about our Inquiry form for laser parts . You will receive your individual offer from us within 24 hours of receiving your request. For more details call +49 7445 85160.
Spring request
Do you have further questions about laser cutting in contract manufacturing? Then contact our technical department directly. You can reach them by e-mail at laserteile@gutekunst-formfedern.de, by telephone at +49 7445 85160 or by post at
Gutekunst Formfedern GmbH
Laser cutting
Siemensstrasse 11
D-72285 Pfalzgrafenweiler
Opening hours:
Monday – Thursday: 7 a.m. – 12 p.m. and 1 p.m. – 4 p.m.
Friday: 7 a.m. – 12 p.m.
For more information:
Laser cutting in contract manufacturing