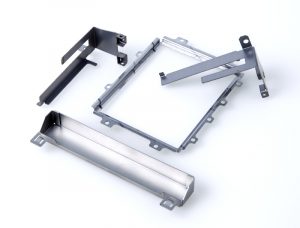 Stamped and bent parts come in many different designs, shapes and sizes Metals manufacturable. As a rule, the stamped and bent parts are made with high precision in one operation Strip steel manufactured. Manufacturers and suppliers combine the Stamping technology with the Forming technology such as folding, deep drawing, embossing and To bend . The stamping and bending process is suitable for the production of stamped and bent parts from 2,000 pieces. This process is in contrast to the pure punching technique or the Laser cutting with subsequent reshaping more cost-efficient for higher quantities, as the stamped and bent parts are produced in one operation and with less energy.
Automatic punching and bending machines with freely programmable bending punches and punching tools made of powder steel or hard metal in strip steel cut are used. Even after millions of parts have been manufactured, the punching tools do not wear out.
Advantages of stamping and bending technology compared to other manufacturing processes:

Because the material is not like the Laser cutting first has to be melted, stamped and bent parts can be manufactured faster and more energy-efficiently.
Through the purely mechanical machining there is no thermal change in the component.
Diverse Forming techniques are possible in one operation.
Stamped and bent parts are quickly produced in consistently high quality.
Disadvantage of stamping and bending technology compared to other manufacturing processes:
Stanzbiegeteile von Gutekunst Formfedern
Gutekunst Formfedern relies on automatic stamping and bending machines with press forces of eight to 63 tons for the production of stamped and bent parts. Gutekunst has its own toolmaking facility and modern stamping and bending machines. In this way, even complex stamped and bent parts in all conceivable forms can be created in the short term materials and forms and implement them in high quality. Gutekunst uses this for small quantities under 2,000 pieces Laser cutting with following Forming technology .
Production range of stamped and bent parts at Gutekunst Formfedern:
Material thickness: 0.1 to 3.0 millimeters
Strip widths: 1.0 to 150 millimeters
Material types:

Normal steel and spring steel according to EN 10270-1
C100S (1.1231) and C75S QT (1.1248)
Stainless steel according to X10 CrNi 18-8 (1.4310), X7 CrNiAl 17-7 (1.4568) and X5 CrNiMo 17-12-2 (1.4401)
Tin bronze CuSn 6 (2.1020)
Copper beryllium CuBe 2 (2.1247)
Electrical steel sheets according to EN 10106
Aluminum AlMg3 and Al99
Further processing steps:

Pressing in – for example of threaded bolts
Thread forming and cutting
welding
Rivets
Screw
Assemble
Assembly production
You still need a suitable one Surface treatment for your stamped and bent part? No problem! Whether barreling, phosphating, hydrogen de-brittling, burnishing, galvanizing, vibratory grinding, bright galvanizing, silvering and gilding, delta micro-layers or painting – we also carry out this additional work. Simply tell us which surface treatment you want, or tell us the environment or the desired one characteristic with.
As a manufacturer of stamped and bent parts, Gutekunst Formfedern can provide you with a non-binding offer for samples, small quantities and large series at short notice. Simply send us using the inquiry button below or via info@gutekunst-formfedern.de Enter the data of the required stamped and bent part stating the number of pieces and enclose a drawing or the CAD data with us.
Spring request
If you have any questions, please contact our technical department directly. You can reach them by email at info@gutekunst-formfedern.de or by phone at (+49) 07445 85160.
For more information, see:
Production of stamped and bent parts